As an internet marketer, I have been involved in Side Hustles for years.
I've been so involved in Side Hustles online that I created this website, Wifi Wealth Empire, to teach you guys about the different Side Hustles online for free.
The slogan for Wifi Wealth Empire is "NO BS, NO Hype."
But when I heard about Side Hustle Daily.
This program is dedicated to taking beginners from zero to hero in different Side Hustles online.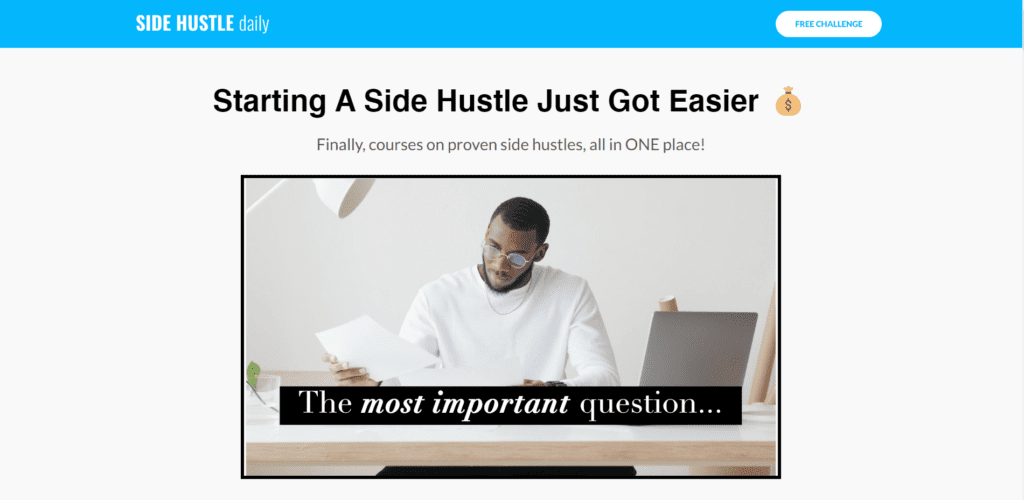 I decided to review the SideHustleDaily.co program to see if it is the real deal.
Side Hustle Daily claims to be the one place for courses on proven side hustles.
In this review, I will cover everything you can expect from being a part of the Side Hustle Daily program to see how true that statement is.
Let's first get into what is Side Hustle Daily.
What is Side Hustle Daily?
Side Hustle Daily is an education platform and community where a hand-selected range of top experts teaches you how to make money with the same Side Hustle they specialize in.
This includes training in Affiliate Marketing, Selling on Amazon, Becoming a Freelancer, Flipping products on eBay, Youtube Automation, and new side hustles are added monthly with experts.
Side Hustle Daily has recently been released and worked on for a few months prior with tens of thousands of dollars invested.
It's a good thing you came across this article.
I'm sure you will be happy to find out that Side Hustles Daily provides you with all the resources needed to start a Side Hustle online.
After this review, you will find out if you will then be able to quit your job and go full-time on a side hustle online.
Let's first find out who is behind the Side Hustle Daily platform.
If the platform's creator is legit, that is a green flag that you can expect good stuff from this platform and training on this platform.
Who Created SideHustleDaily.co?
Chad Bartlett created SideHustleDaily.co.
Chad Bartlett is an internet marketer with a Youtube Channel with over 90,000 Subscribers and 4.5 Million viewers where he teaches internet marketers about different side hustles.
If we go back to when Chad first created his channel.
We can see that he has been teaching about side hustles on his Youtube Channel for five years.

He started out teaching Amazon FBA and has since taught other side Hustles such as Affiliate Marketing with Clickbank, Email Marketing, Video Marketing, and many other Side Hustles.
This is a green flag as Chad Bartlett has been practicing what he preaches for half a decade.
Since we are on his Youtube Channel, I decided to dive into one of his videos.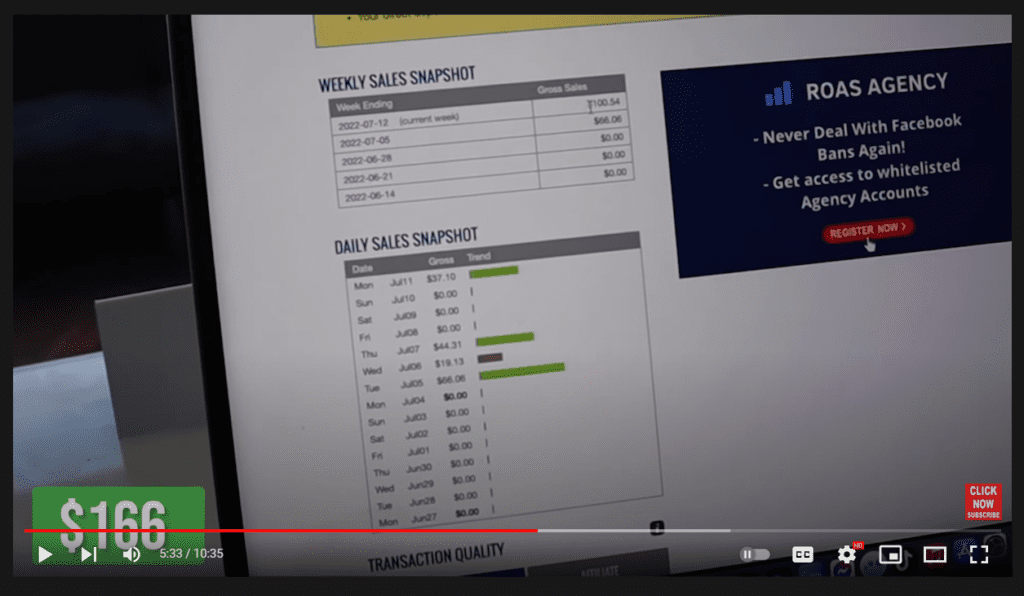 In this video, he teaches a beginner to make money with Affiliate Marketing with Clickbank training inside SideHustleDaily.co.
At the end of this training, this beginner went from $0 to $367.40, which is impressive for a beginner.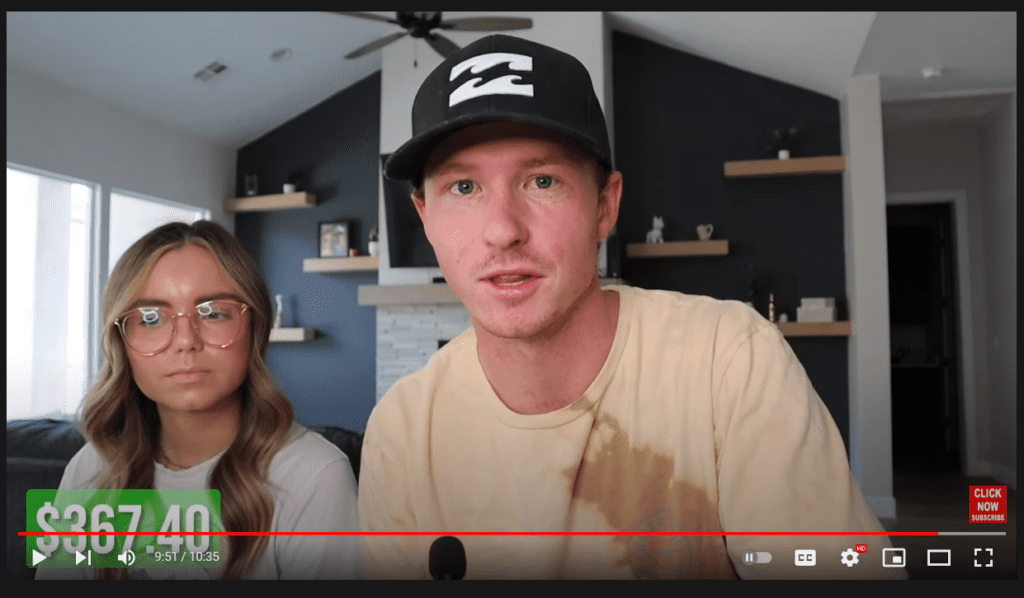 Chad Bartlett gave us updates after the 30 days challenge.
She has earned up to $1000 daily doing Affiliate Marketing with Clickbank on Tiktok.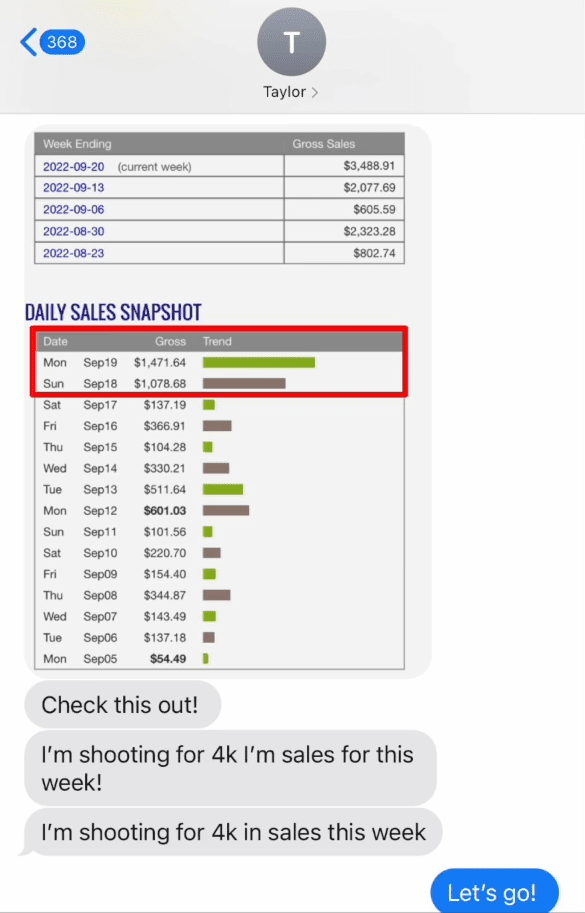 This is the kind of training program you can expect when you join SideHustleDaily.
Taylor, the beginner Chad taught, is also a part of Side Hustle Daily and will teach you how she did what she did.
Once again, this is another green flag for Chad Bartlett which solidifies his experience with the Side Hustles that he is teaching.
Who is Side Hustle Daily for?
This platform is for people that are annoyed by learning from multiple gurus on the internet and want to learn from experts that do what they teach.
SideHustleDaily.co allows you to skip out on the fluff and BS information that's out there on the internet about making money online.
Side Hustle Daily is also for people who are tired of living paycheck to paycheck and want to start a side hustle online.
By starting this side hustle, members of this platform can make enough money to quit their full-time job.
Do I need a Certain Skill Level to Join?
No, you do not need a certain skill level to join.
Experts from SideHustleDaily.co will teach you how to go from scratch in the side hustle you are interested in.
Not only are experts there to guide you, but a community of members is learning the same side hustles as you that you can network with.
What makes it so Unique?
This platform is unique because you are learning from experts showing their case studies and revealing their niches, funnels, and website.
Similar to what I do here at Wifi Wealth Empire, but in the form of videos.
There are not many places online you can go to learn about different side hustles online where they are revealing everything.
This makes SideHustleDaily unique and the incredible community that holds you accountable.
Side Hustle Daily Pros
Courses are added every month.
Start Making Money Today, No BS information.
Learn from actual experts and not fake Gurus.
Work at your Own Pace.
Side Hustle Daily Platform, Training, and Tools: What's Inside?
You might wonder what you get when you join the platform.
This is what the platform looks like when you are inside.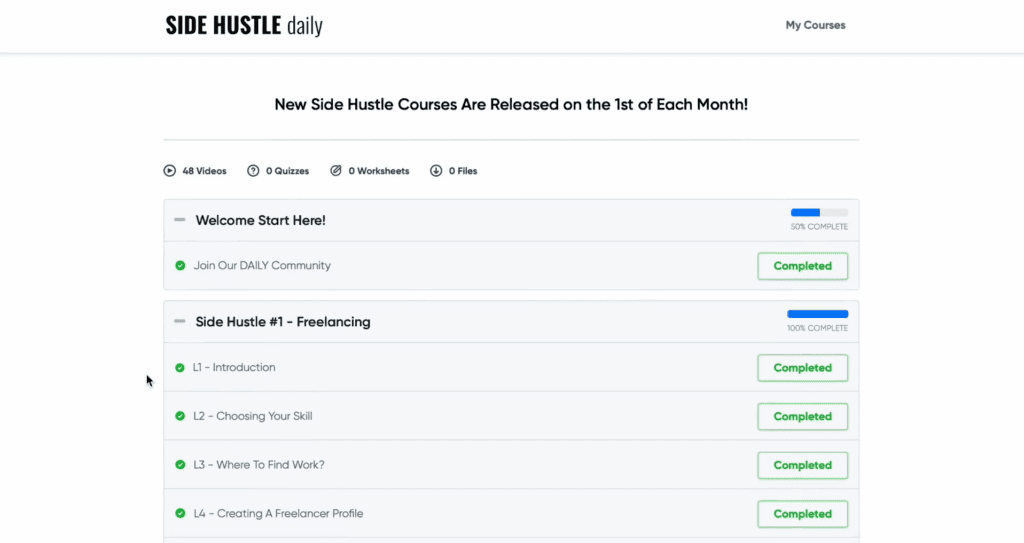 At the top of the Navigation Bar are videos, quizzes, worksheets, and files you can access on the platform.
The first video is a Welcome video that goes over the platform and introduces you to the community where you will be able to join.
This comes in the form of a Discord group with all the members of SideHustleDaily.
Then below that is where you can access the different Side Hustle training programs.
The first one on the list at the moment is Freelancing.
So people looking to pick up a side hustle in freelancing.
This would be the perfect program for you.
Then there is the second Side Hustle which is affiliate marketing.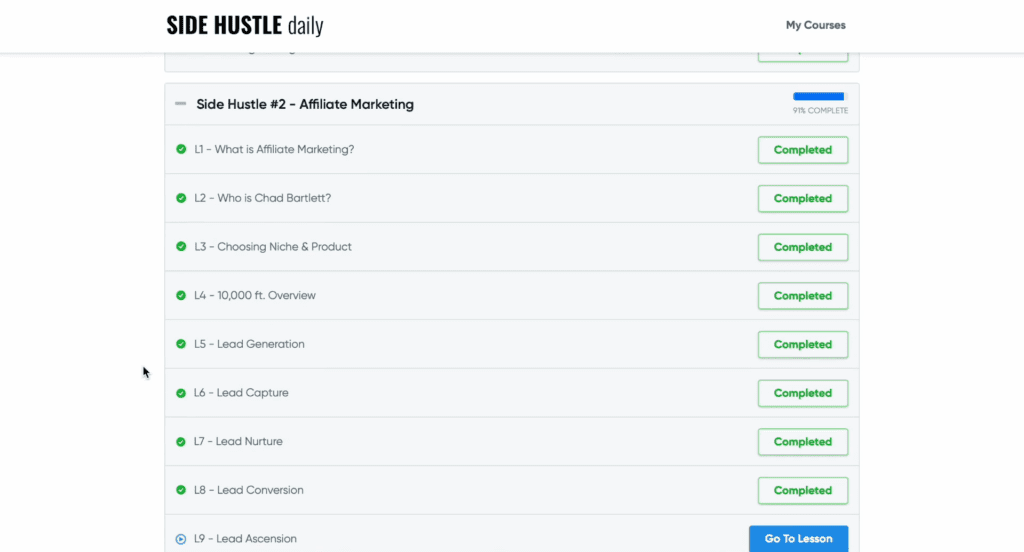 Chad, the creator of Side Hustle Daily, teaches this Affiliate Marketing training.
As you can see in this Affiliate Marketing training on Side Hustle Daily, you will learn:
What is Affiliate Marketing?
Who is Chad Bartlett?
Choosing Niche and Product
10,000 ft. Overview
Lead Generation
Lead Capture
Lead Converion
Lead Ascension
This program continuously improves, so you can expect to see more lessons after joining Side Hustle Daily.
Then there is even training for Flipping products.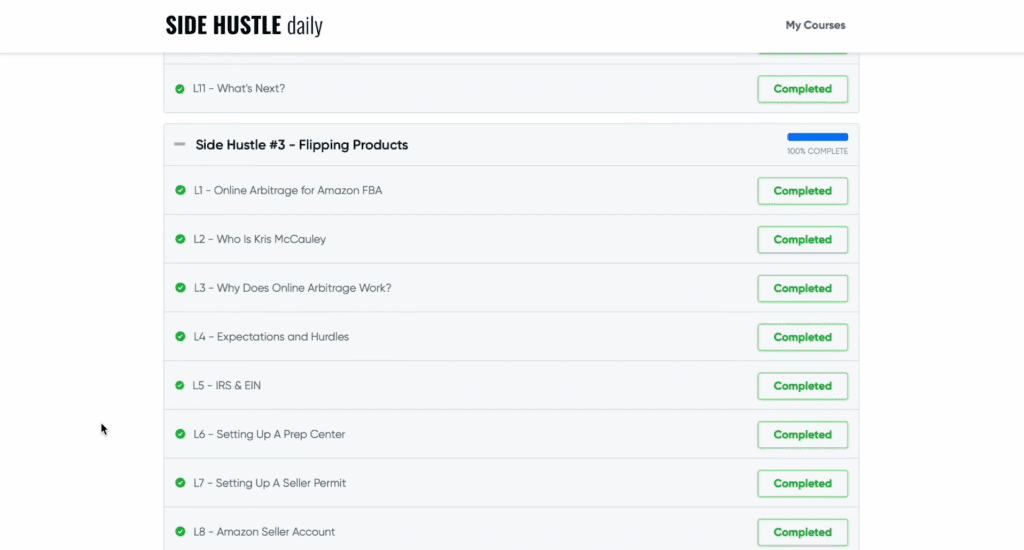 So if you plan to flip products as a Side Hustle, this would be the perfect training for you.
For Side Hustle #4, there is training for Youtube Automation.

As you can see, this Side Hustle training is not updated yet, but by the time you join Side Hustle Daily.
This training on Youtube Automation will most likely be added.
Then there is another Side Hustle on Amazon FBA.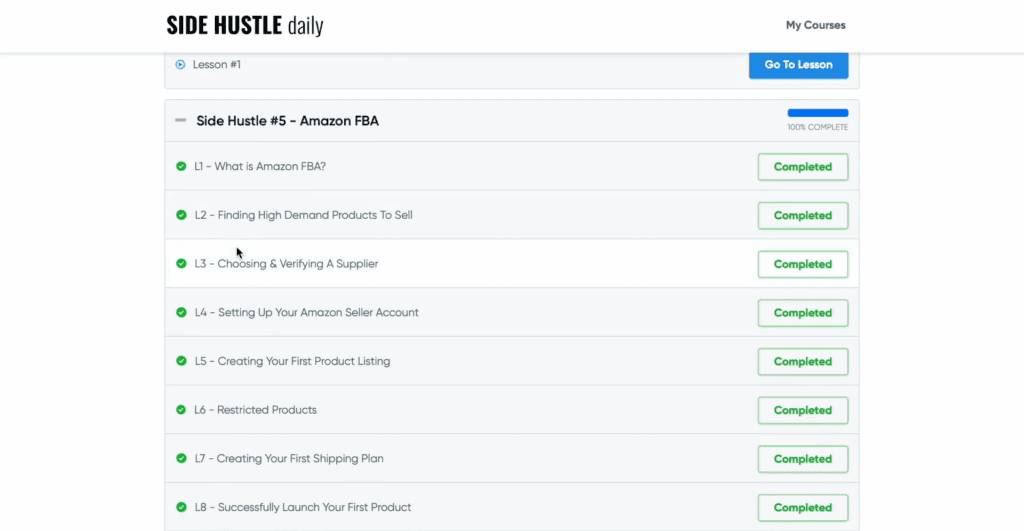 So for persons looking to learn Amazon FBA.
This training on Side Hustle Daily would be perfect for you.
Discover My Secrets to Thriving Online: How I Make a Living from Anywhere!
Ready to unlock the ultimate online money-making solution? Say goodbye to Side Hustle Daily and hello to a platform trusted by thousands of users, offering a hundred times more value. Don't miss out on this game changing program that revolutionizes how you earn money online. Discover how to turn your dreams into reality.
Imagine living life on your own terms, working from anywhere you desire with just a stable internet connection, all while earning a full-time income. It's not a dream anymore! Thanks to this all inclusive program, you'll be able to build a scalable business and achieve financial freedom. Yes, it takes time and effort and not some get rich quick scheme, but with our expert guidance, you'll be equipped with everything you need to succeed. So, are you ready to join the league of successful online entrepreneurs?
Final Conclusions on SideHustleDaily.co:
If you know me, I am not a fan of online courses teaching you how to make money online.
This is why I created this blog to teach actionable internet marketing methods for free.
Most of the online courses are BS information from fake gurus teaching you stuff they have never done.
But I have to take my hats off to SideHustleDaily.co education platform.
This is a one of a kind product.
Even though the slogan for this blog is "NO BS, NO Paid Courses, and NO Hype!"
SideHustleDaily will be the only paid internet marketing education platform I recommend.
I have not seen anything come close to this with proven results from experts in the internet marketing industry.