In this post, I will let you know whether Social Rebel is legit or not.
Infact:
Here is a Social Rebel account that has a current balance.
You will find out whether or not this cash balance was able to cash out or not.

So, Social Rebel claims that they have made 7000+ payments each day.
By the end of this post, you will know whether or not this statement they have made is true.
According to Social Rebel, you get paid to share your opinions through surveys, testing free apps, and inviting your friends to Social Rebel.
I decided to write this review so you can know whether or not you will be wasting your time.
Because we all know.
Time is Money

Benjamin Franklin
And as someone who makes money on the internet, I would not want to see people wasting their time trying to make money using methods that do not work.
You probably found it while looking for legitimate ways to work from home.
But you should do additional research to learn more about this website.
Social Rebel claims to make absolutely bold claims, such as paying $50 for signing up and making $500 in a day.
So let's dive into this platform to determine whether these statements are factual.
What is Social Rebel all About?
Social Rebel positions itself as a website that enables users to earn money by completing surveys, downloading apps, and recommend others to use the Social Rebel website.
This website claimed to have been founded by Ralph R. Lawson and Chad Evans in 2018.
The company also claims to be located in the Netherlands and helps thousands of people to make money online using its Social Rebel platform.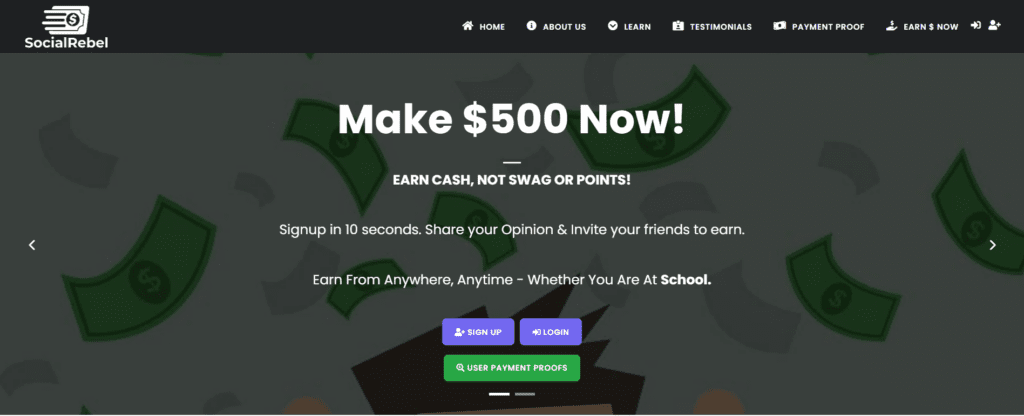 This is what the Social Rebel website looks like.
On the homepage, they even claim you can make $500.
Let's dive into the website some more to see some of the other claims they make and whether they are true or false.
Analyzing Social Rebel Website
One of the claims they make on their website is to be featured on some very reputable platforms.

Social Rebel mentioned that they are featured on MSN, Forbes, Buzzfeed, and Mashable to name a few of the websites.
Let's check if the Website Social Rebel is featured on Forbes.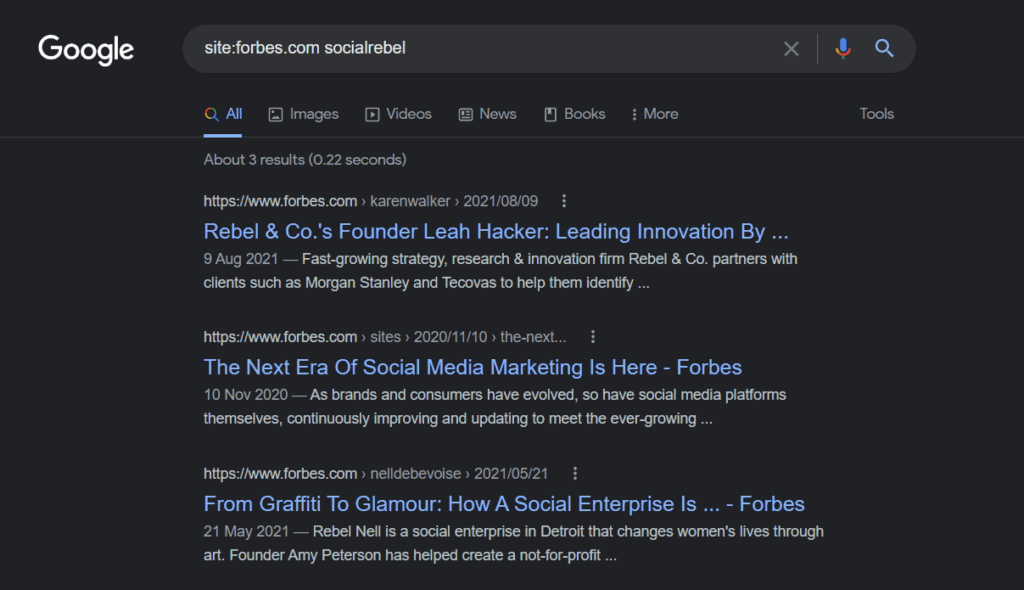 These are all the results that show whenever the keyword SocialRebel is searched on Forbes.
You can try it yourself by entering into Google:
site:forbes.com socialrebel
One of their claims has already been debunked, as their website is not on Forbes.
This is a huge red flag as they made a false claim.
Another claim they made was that Social Rebel was founded in 2018.
After looking at when the domain name was registered.
It was registered in 2021.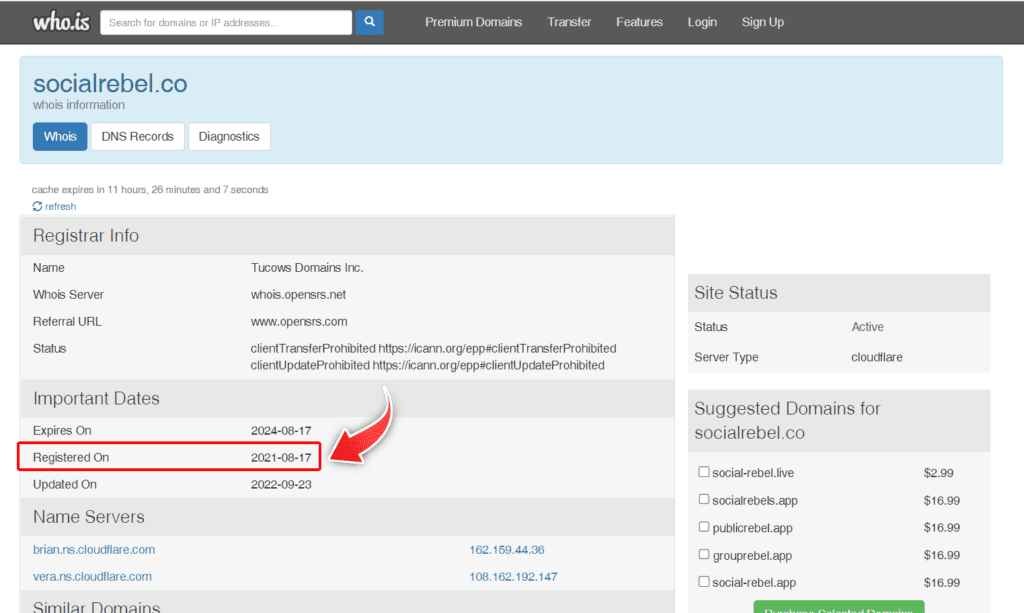 Now that we analyzed their website and encountered a few red flags let's dive deeper into the Social Rebel platform.
How does Social Rebel Pay?
SocialRebel does not pay its users.
What is very strange, though, is that if we go to the payment proof section of the website.
They are showing people getting paid from Social Rebel.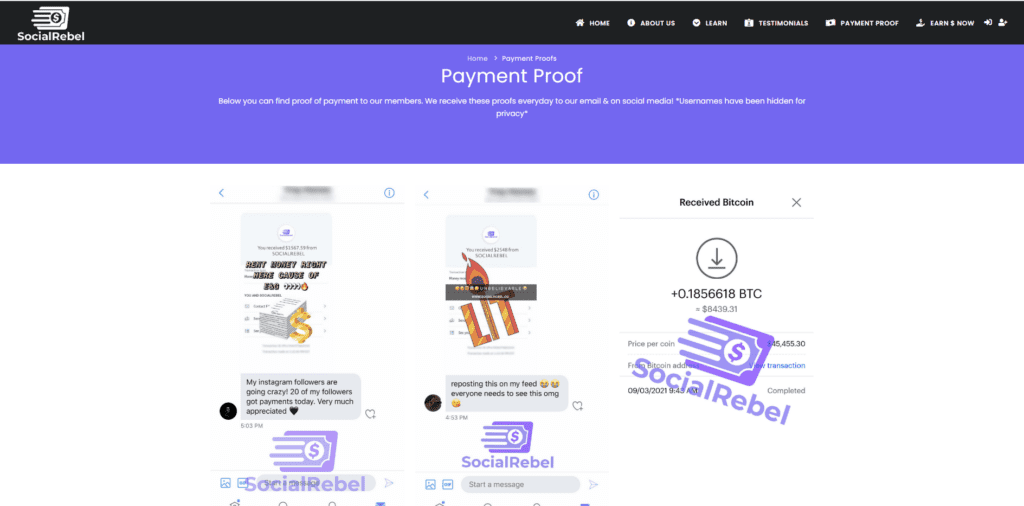 Now screenshots and images like this can easily be fabricated.
So I went to another website where I could receive feedback from other users that have used the SocialRebel, and this is what they are saying.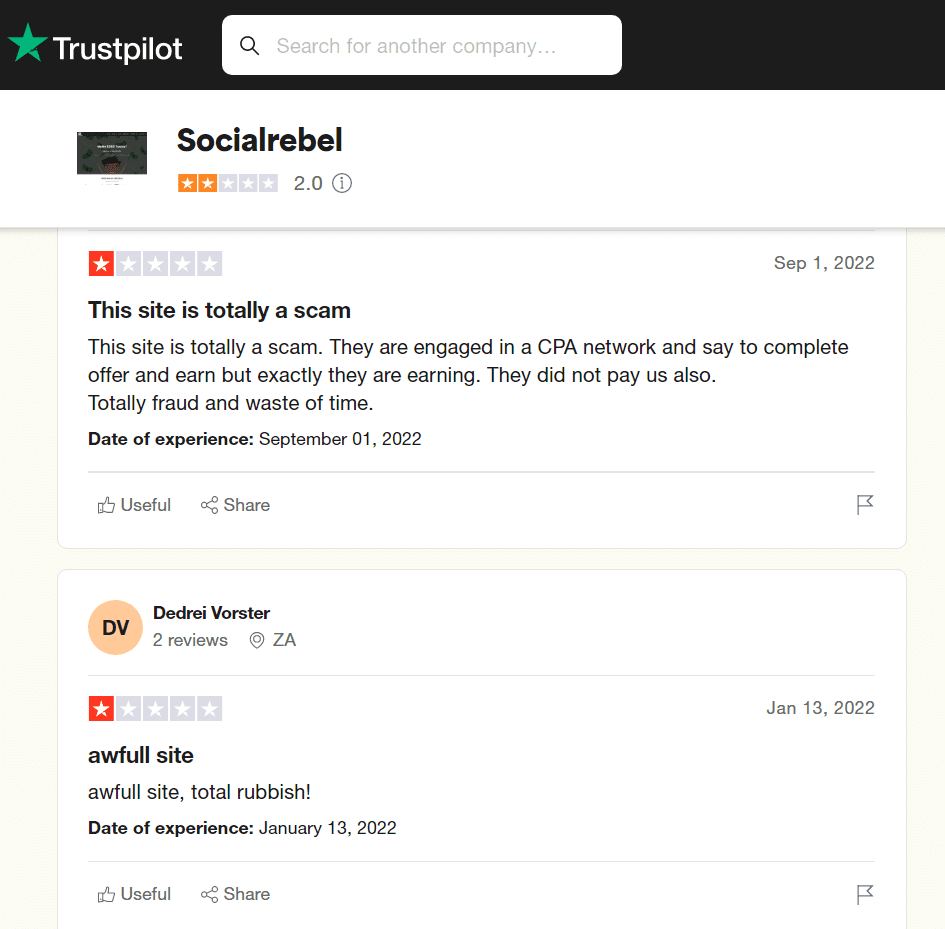 Social Rebel Payment Methods
Social Rebel claims to pay you by:
Paypal
Venmo
CashApp
Bitcoin
Zelle
But will they ever use any of these Payment methods? Let's find out more.
How to Earn Money Using Social Rebel
On the SocialRebel website, users can register very quickly without even confirmation.
Your full name, username, email address, and password must be entered.
Once these are entered, you click on Sign Up and are ready to start earning on SocialRebel.
After registering, SocialRebel showed that we had a current balance of $50.
I found this sketchy because why would I receive $50 for just signing up?
That was another red flag for me. 🚩
But let's see how I could increase my $50 on SocialRebel.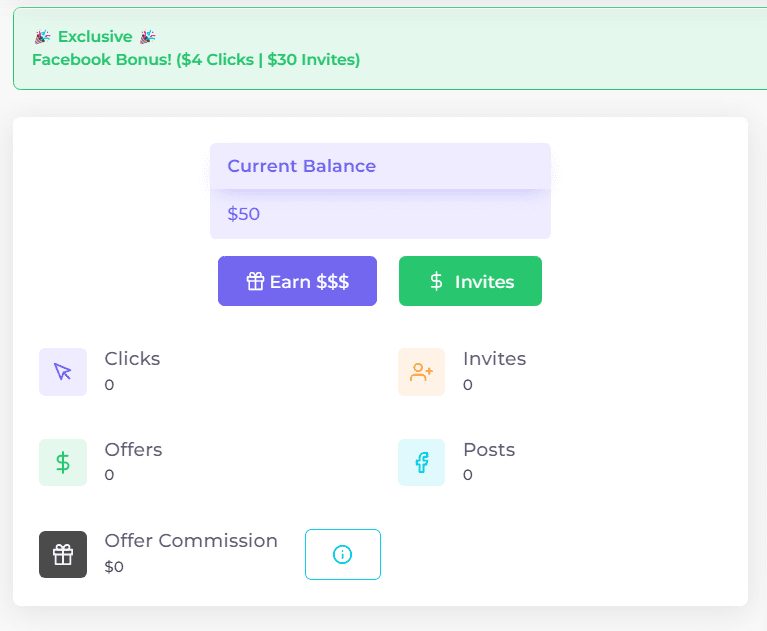 As you can also see, they offer me an exclusive after I sign up.
So for every invite, I'd be paid $30.
This is a way to bring more people onto their platform.
Let's see how Social Rebel works completely.
How Does SocialRebel work?
You can earn money in four ways, according to SocialRebel: by completing surveys, downloading apps, posting on social media, and referring friends.
Completing Surveys
According to Social Rebel, users can supposedly make money by responding to surveys:
Navigate to the Offer Center on the sidebar.
To access the Surveys section, scroll down to the bottom.
Pick one of the surveys that are offered.
You will be redirected by SocialRebel to a different page with detailed instructions to complete the survey.
Click "Start and Earn" to begin the survey.

Now Social Rebel will ask you these different questions asked in the survey.
You will earn the amount they claim to pay for that specific survey.
Now, this is the way that SocialRebel earns money also and not just the users.
They get paid by this company that wants people to complete a survey.
And when they get paid, they take the money for themselves and give you points in the form of dollars on their SocialRebel platform.
This is a form of CPA marketing, but Social Rebel is doing it unethically.
You can learn How to make money online with CPA Marketing ethically.
Let's get into the other ways to earn money on SocialRebel.
Downloading Apps
According to SocialRebel, downloading and testing applications might earn you up to $50+.
You must be on a mobile device to access this part of the website and complete these app installs.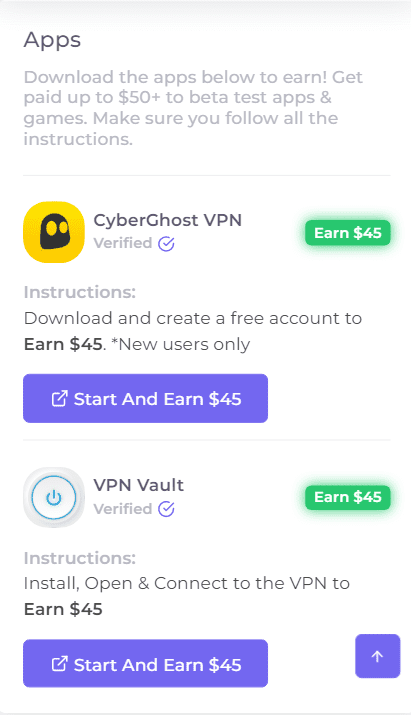 You can download these two apps, and the earnings you will receive from each app are as follows:
| | |
| --- | --- |
| App | Earnings |
| CyberGhost VPN | $45 |
| VPN Vault | $45 |
How to earn money through app testing on SocialRebel:
Navigate to the Offer Center on the sidebar.
To access the Apps section, scroll down.
Choose from the apps that are offered.
SocialRebel will redirect you to a different page that offers detailed instructions.
Click "Start and Earn" to download the App.
Your earnings will be added to your account after 15 to 20 minutes, according to SocialRebel. But occasionally, it can take up to 12 hours.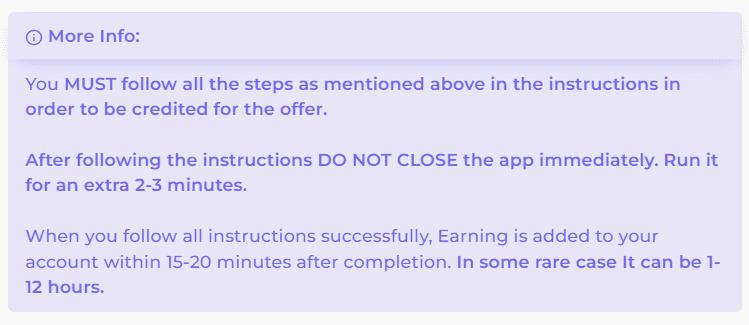 Posting on Social Media
According to SocialRebel, you can earn money by publishing on social networking platforms.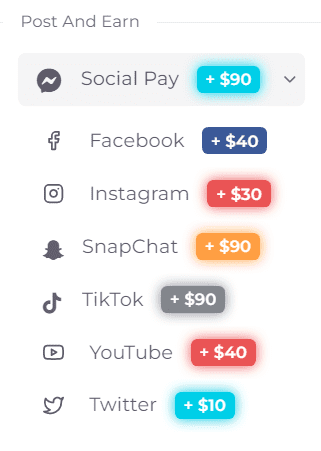 How to earn money through posting on social media on SocialRebel:
Navigate to Post and Earn on the sidebar.
Choose from the Social Media that are offered.
Make a Post on the Social Media platform you selected.
Copy and Paste the link on SocialRebel.
There are the different amounts you can earn to post on social media from SocialRebel.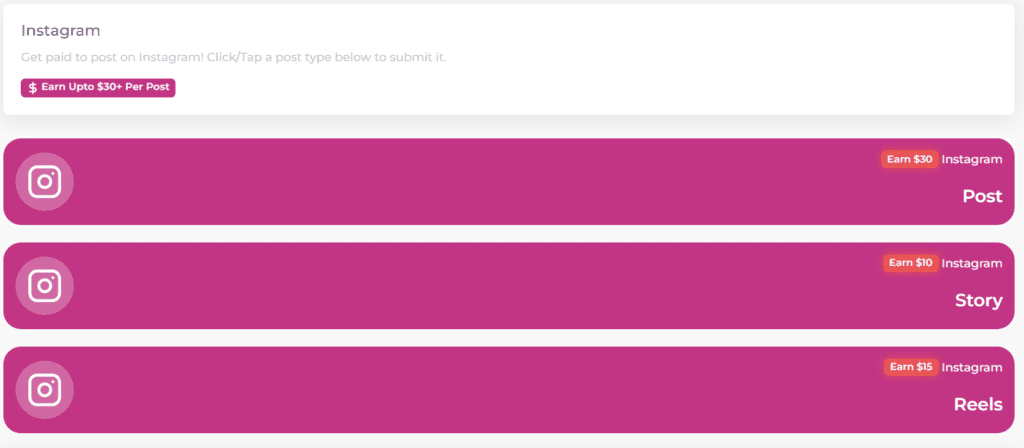 Referring friends
SocialRebel claims that you can earn up to $20 in addition to a 25% referral bonus for each person you send their way.
According to SocialRebel, you can get up to $2 for each click on your post.
Click Home on the website's right to view your referral link.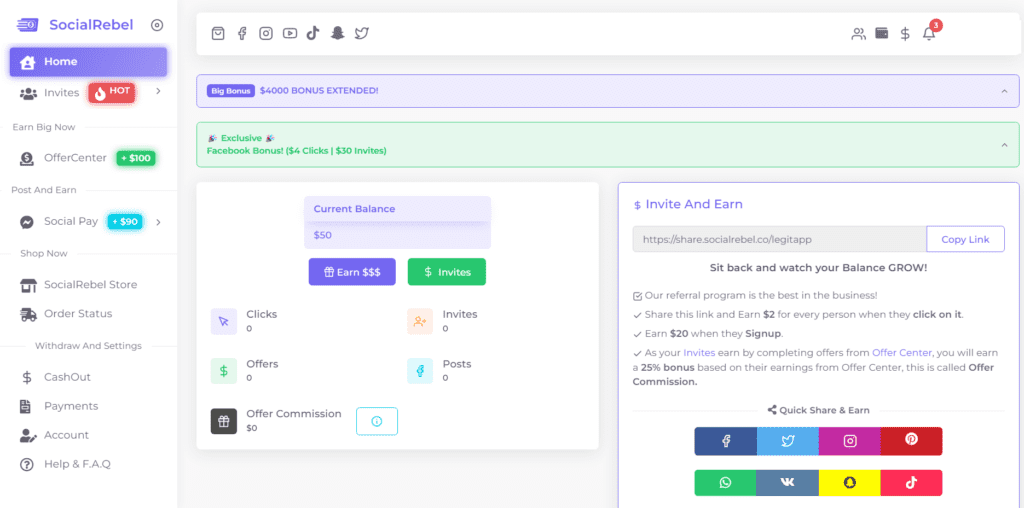 Cashing out your Earnings on SocialRebel
You can only cash out your earnings on Social Rebel after:
15 clicks
5 invites
6 offers
$220 in commissions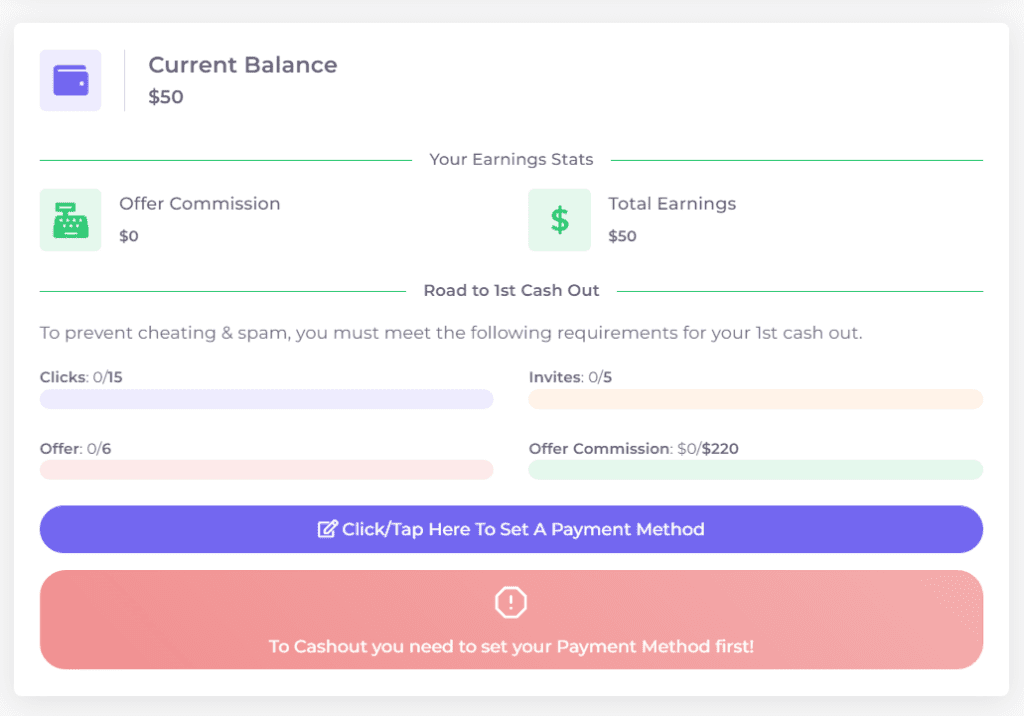 Once you meet the cash-out requirements, you must enter your payment method.
However, since SocialRebel is a scam, real users have cautioned you against ever giving them access to your payment information. You may safeguard yourself against hackers and harmful emails in this way.
If you want the perfect side hustle to make money online without BS scams like SocialRebel, I suggest you check out the CPA Marketing with OGAds.
Final Thoughts on Social Rebel
After carefully analyzing and digging into the Social Rebel platform, I've encountered multiple red flags on why you should avoid using Social Rebel.
SocialRebel has changed its URL from socialrebel.co to socialrebel.app without letting their users on socialrebel.co know about these changes. Why change your website's domain name and make it more difficult for users to find if it was successful and received plenty of visitors? Except if you don't want people to see the old site.
According to TrustPilot, a lot of people that have used the website said they were not able to withdraw their payment.
It makes inflated financial promises that seem too good to be true. Almost every 15 minute you can see new users being paid $1000-$4000 from SocialRebel.