In this post, I will be showing you how to make money with OGAds which is a CPA Marketing Network.
In fact:
This is an invoice showing some of the earnings I have made with OGAds.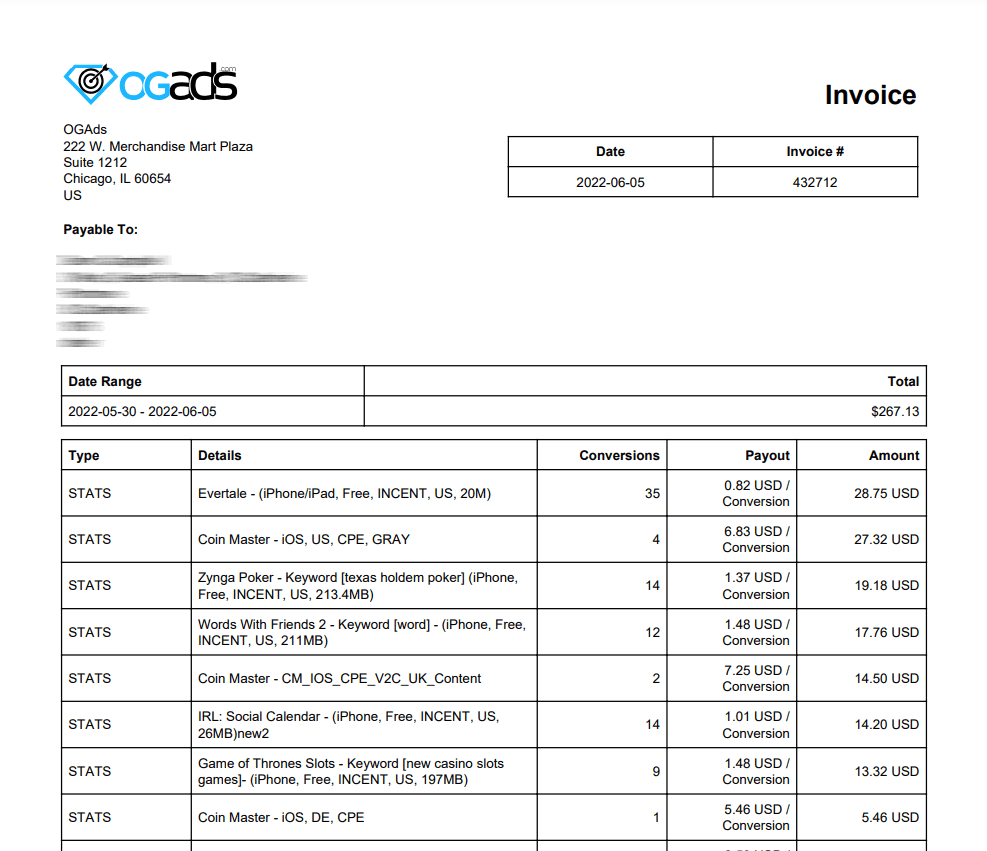 When it comes to making money online, I have tried a lot of methods and side hustles.
I started with Google Adsense, which was the first method I came across.
Then Affiliate Marketing with Clickbank, which to date is still one of my favorite methods to make money online.
Through Affiliate Marketing with Clickbank, I came across CPA Marketing.
One of the first CPA Marketing network I joined and made some money with was MaxBounty.
What is CPA Marketing?
CPA Marketing also known as cost-per-action marketing is where you receive a commission when a user takes a specific action.
These actions include email submission, signing up for a trial, or downloading apps.
But before, you can do CPA Marketing, you will need to find a CPA Marketing Network.
I came across OGAds while searching through forums for the best CPA Networks.
OGAds was one of the most popular and common CPA networks recommended among most internet marketers.
How OGAds Work?
App developers and large companies want to promote and drive traffic to their products.
So as consumers, we buy their products or download their apps.
Our task as a CPA Marketers is to drive traffic to these companies' CPA Marketing campaigns…
… and in return, we get paid!
Sounds awesome right?
Starting with OGAds
It is free to sign up and you don't need a website to get approved.
You can check out how to get approved on OGAds if you haven't gotten approved on OGAds yet.

This is why OGAds is one of my favorite CPA networks.
But in order to get approved, you will need to have a solid method by which you plan to promote their campaigns.
That way you can explain how you will be promoting in the signup process.
No worries!
By the end of this post, you will have a complete idea of how to do just that.
Once you are approved, you will receive this email.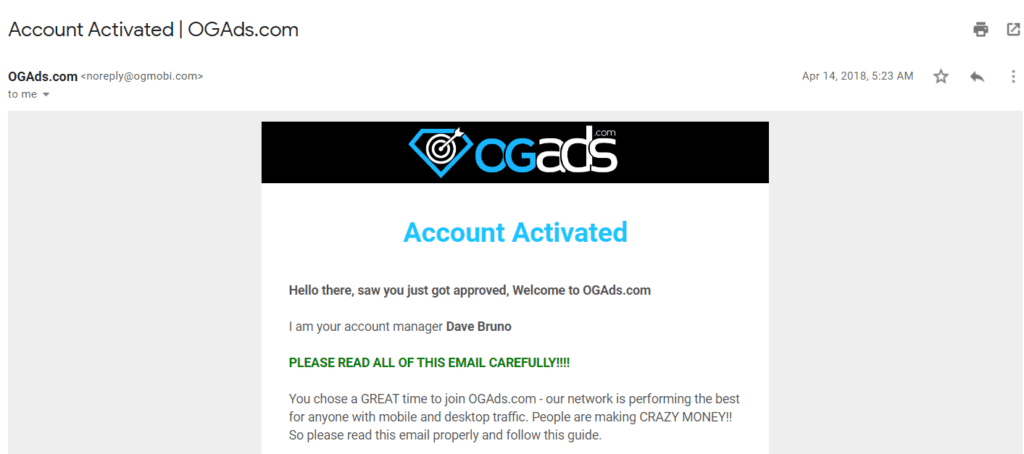 After Being Approved into OGAds
Once you have signed up and your account has been approved.
You have already completed the first step to making money online with OGAds.
You can go ahead and log in…
… and start getting familiar with the dashboard.
This is where you will be seeing all of your earnings live.

I can assure you that this will be your favorite part of the dashboard.
Selecting A Niche to Promote on OGAds
Now that you are on your dashboard, you want to come up with a niche that you want to promote.
There are multiple niches that you can promote. Here are 4 such niches of the many niches you can choose content to promote from.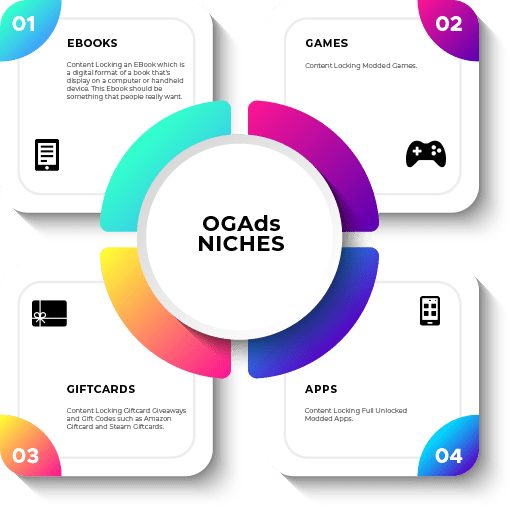 Creating a Content Locker
The next thing you want to do is create a content locker to lock the content that your viewers are trying to access.
Once they complete the offers on the content locker, they will then be able to access the content that you locked
So, in this case, I will be promoting an EBook from the Keto Diet Niche.
You are able to find eBooks to promote from different PLR Websites for free.
You will also be able to download different niches CPA Landing pages from our store.
Now that I have my niche and the content that I will lock. I can now create my content locker.
This is what my content locker looks like.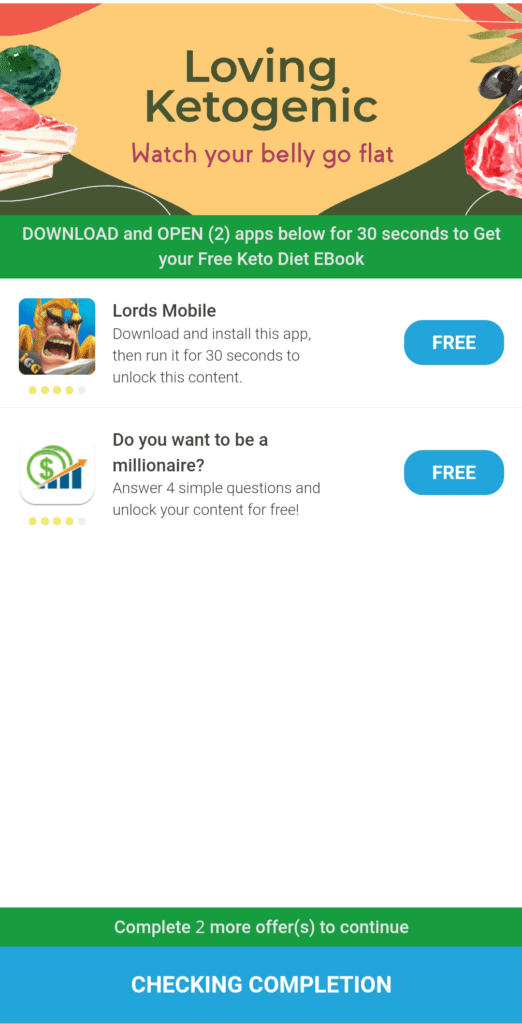 Now that the content locker is created, you will need to have a landing page to place your content locker link inside.
There are multiple ways you can get a landing page. In this case, a landing page usually comes with each PLR EBook download.
Pro tip: Get a domain to host your landing page as it is safer and works better if you buy a cheap .com domain and host your own landing page. This makes your link a lot more official which will in return boost your conversion rate.
You get 60% off hosting if you use wifiwealth coupon code at hostgator.com
Once you have your .com domain and your web hosting all setup.
You are almost ready to start driving traffic to your content locker.
Landing Pages for CPA Marketing
The next step is to get your landing page set up on your domain and hosting.
You will receive a zip file whenever you download your Landing Page.
Here are a few more free CPA Marketing Landing Pages for those interested in other niches for content locking.
Setting up your Website to Promote your OGAds Offer
Go ahead and log in to your cPanel.
You can find the cPanel by logging into your hosting portal or checking your email after purchasing your web hosting for your cPanel information.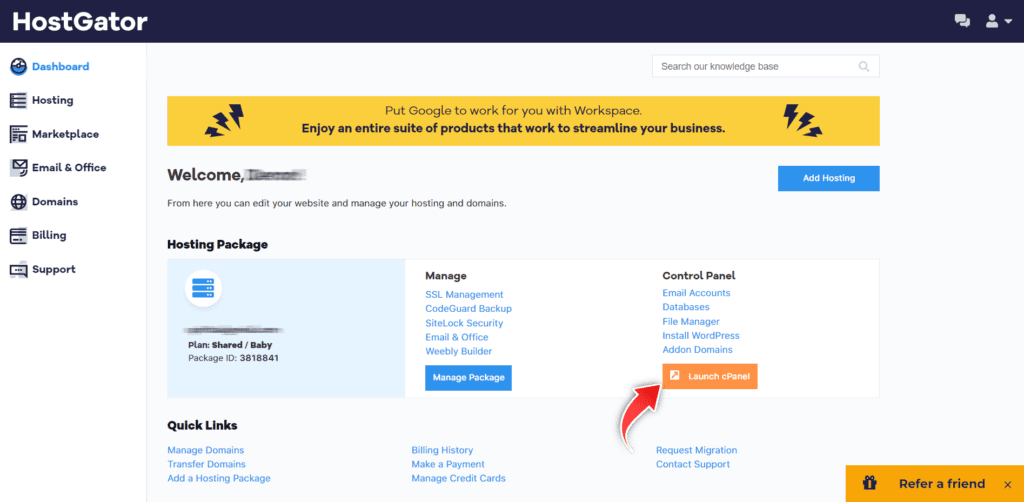 Once you are in your cPanel, you want to proceed to your File Manager.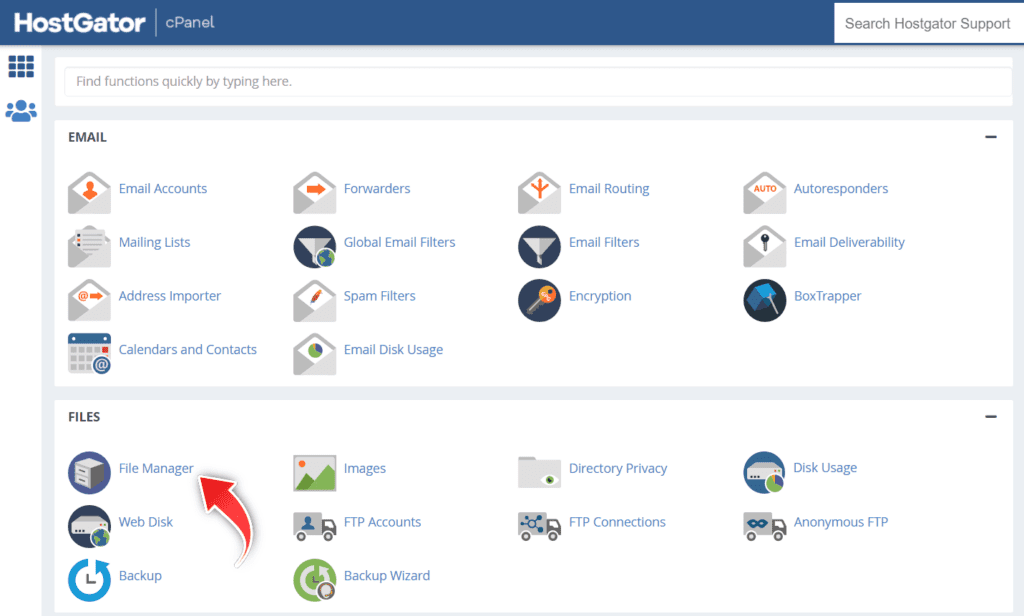 This is where you are going to upload your Landing page which can be found in the zip file that you have downloaded.
So you want to select Upload.

Then you want to select a file, this will be a zip file that you downloaded.

Usually, the Landing page is a zip file with multiple files, containing images and code that make up the landing page. Once you have selected the zip file, it will be uploaded.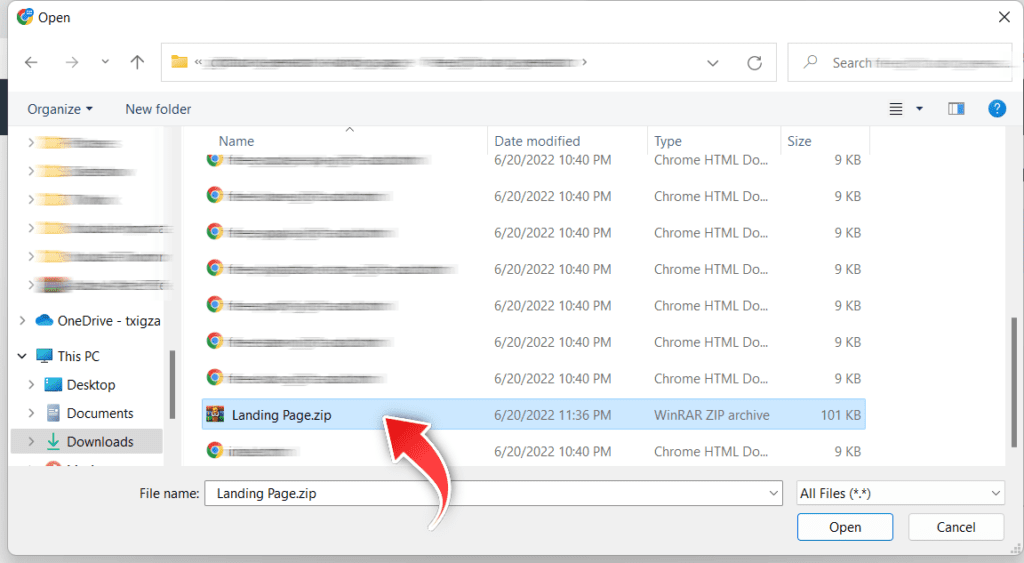 After uploading the zip file, you want to right-click the file and go ahead and extract it.

After the file has been extracted…
you can now type in your domain name…
… and you should see the landing page that you uploaded.
Now that your Landing page has been uploaded to your domain, you need to start driving traffic to your Landing page.
Because no traffic, no earnings!
You can have the best landing page in the world.
If you have no traffic, it just won't work.
Method to get Traffic on OGAds
These are some of the social media platforms that you can use to drive traffic to your OGAds Landing page and get conversions from your content locker.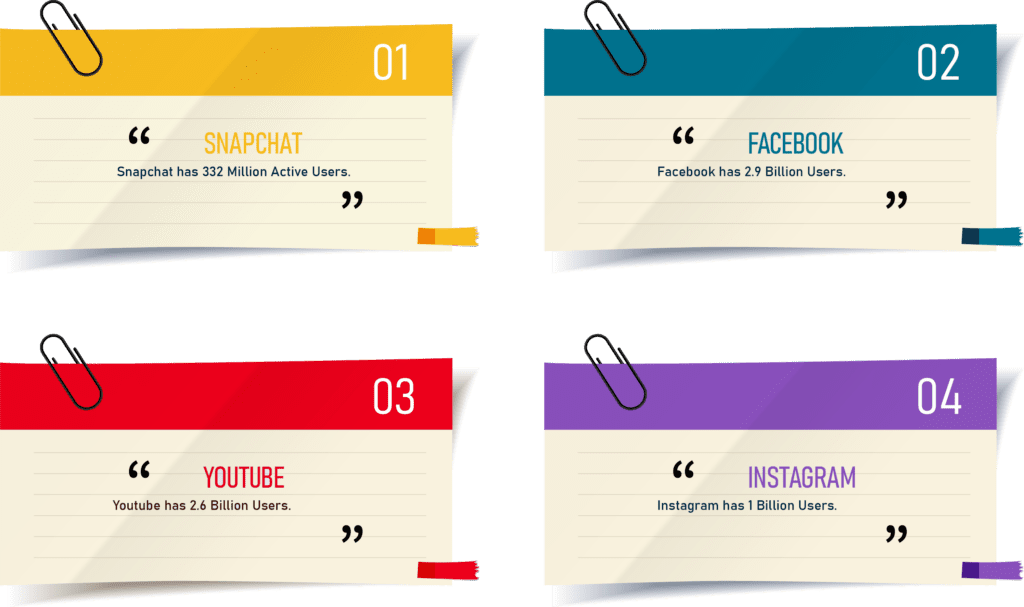 There is Snapchat with over 332 Million Active users, Facebook with over 2.9 Billion Users, Youtube with over 2.6 Billion Users, and Instagram with over 1 Billion Users.
For this post, we will focus on driving traffic from the Instagram social media platform.
We will cover the other social media platforms and how to get traffic to your landing page in a future post.
Youtube Traffic Source
Youtube is one of the best traffic sources when it comes on to organic traffic.
This is because of how the algorithm works.
Once your video ranks in the youtube algorithm.
You can keep getting traffic for a very long time, and this traffic is free.
In this full course with 8 modules, I showed how to drive free traffic to your OGAds content locker with Youtube.
This is one of my favorite methods to make money from Youtube with OGAds content locker.
This is the Youtube and OGAds method.
The OGAds niches are limitless with this method.
Here is the Youtube and OGAds method, put together in a full course with 8 modules.
Instagram Traffic Source
Instagram is one of my favorite traffic sources.
Why? you may be wondering.
Because this is where I have made the first dollar on OGAds.
Finding your target audience is very simple, using Instagram.
So you want to create an account in your niche.
For example…
Let's say you were in the Keto diet niche…
.. and you chose to promote a Keto diet landing page.
By going to a Keto Diet Instagram page, you should see an example of what your Instagram account Bio would look like. You should also see all the followers of that account, which is the audience you would be targeting.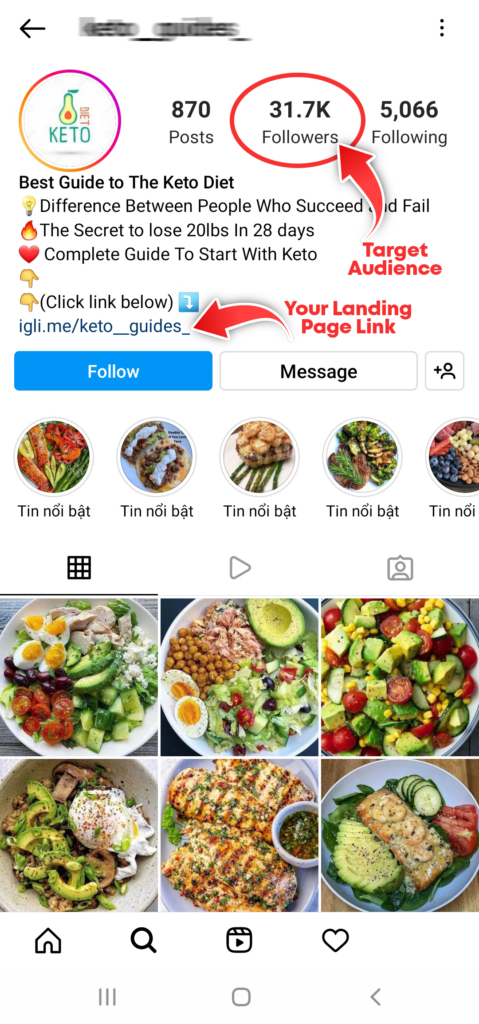 There is a limit of 5 accounts you can create on Instagram.
You want to use your 4G Network when creating multiple Instagram accounts.
What I use to create as many Instagram accounts when scaling this method is a Residential 4G Proxy, it's good to distinguish all your Instagram accounts since the IP address is constantly rotating.
If you try to create multiple accounts from one IP Address, your IP will eventually be marked as spam by Instagram and you will be blocked from creating more Instagram accounts.
The more accounts you create in your niche, the faster you can scale this method and increase your earnings.
This allows you to make money on autopilot if done correctly. One of my favorite software to Automate on Instagram is the IG Follow and Unfollow Automation Tool.
This will allow you to automatically interact with your niche Instagram audience for them to come to your account and visit your landing page.
You have to be very careful with automation these days.
This has made it a lot more challenging for a lot of people. But for those who can work around it and figure it out, there is a lot of money to be made.
This is because the market is no longer saturated so there is less competition.
Since these new Instagram algorithm updates, a lot of people that are not able to adapt to the changes stopped using the platform for this kind of marketing.
30 Days CPA Marketing Journey with OGAds
Here is a video I made with 30 Days' earnings on OGAds.
I wanted to see if I could go from $0 to $1000 on OGAds with CPA Marketing, so I documented the journey.
In this video, I showed how much money I made with OGAds for 30 Days to show that it's possible.
This was done using free traffic.
Conclusion
There you have it: How to Make Money with OGAds CPA Marketing.
When you start making money on OGAds, you will then need to set up your OGAds payment settings.
This way you can start getting your money from your OGAds account to your bank account.
Here is a video showing my OGAds dashboard along with some of my live leads and earnings.
I hope this method will give you a start for you to learn more and go on to bigger stuff…
.. because there are a lot of possibilities and different methods available in OGAds CPA Marketing.
Once you get to $100 in earnings …
… you will unlock the OGAds chat where you will be able to see earnings from other OGAds users and even network with other OGAds internet marketers.
This will give you even more inspiration to be creative and come up with your own methods.
As Tim Sanders says "Your network is your net worth."