Here is my review of Dollah.co, a GPT website which allows people from all over the world to earn some extra money by doing surveys, playing games, and completing different online tasks.
In this post, I will share with you my personal experience as a Dollah.co user, as well as the pros and cons of using it, so that I can help you decide whether it's worth your time or not.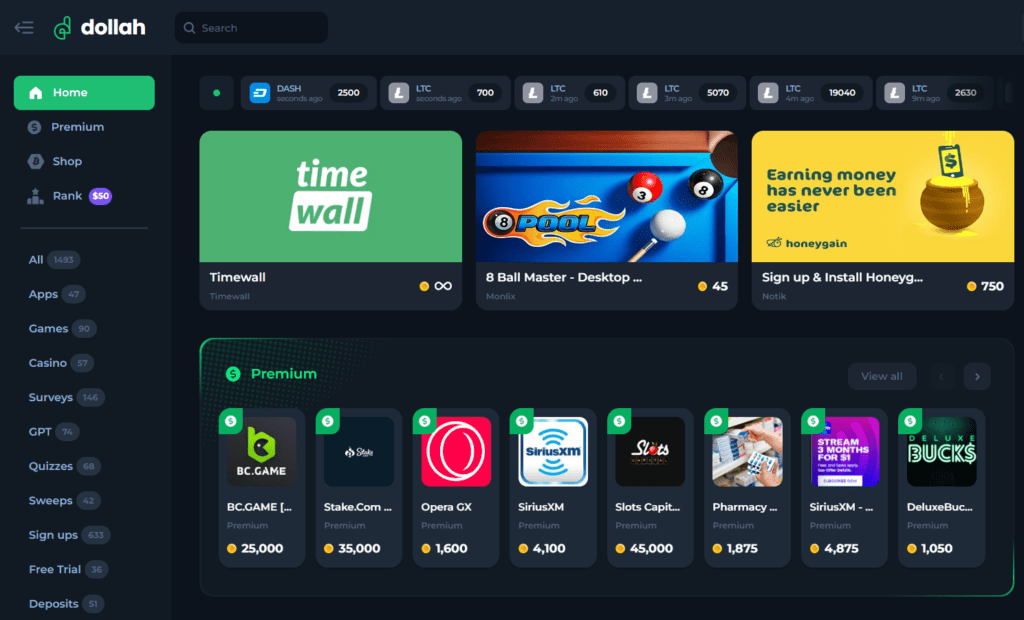 Although Dollah.co is a legit GPT website, I wouldn't recommend using it if you're looking to make serious money online…
Websites like Dollah.co are fine for earning a little pocket money, but there are far better options available. From my experience, it would be best to stop wasting your time hoping to make a dollar or two and learn valuable skills to make money instead.
Dollah.co Review
Throughout this review, I will provide you with an unbiased and truthful review of Dollah.co, including its payment methods, legitimacy, and my personal recommendation on whether it's worth your time.
Additionally, I will introduce you to a much better and more reliable way to make money online that involves creating a sustainable, long-lasting business.
Dollah.co is a GPT site that offers various ways to make money online.
Upon signing up, you'll notice that the website looks and works like any other GPT site. The site has a good layout and offers a great selection of surveys and offer walls.
Plus, it provides instant cash outs, which is one of the features that sets it apart from other GPT sites.
To start earning money, you need to sign up by providing your email and creating a password of your choice.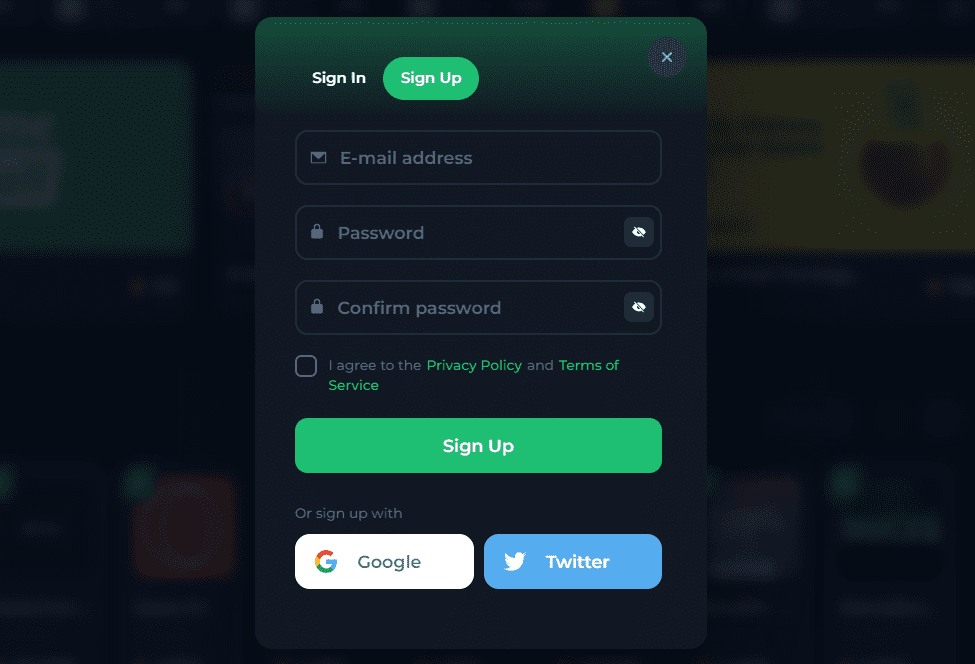 Once you're done, you're free to explore all the earning options Dollah.co offers, which currently include completing offers on the offer wall, participating in surveys, and referring friends and family.
The simplest and fastest way to earn money with Dollah.co is by completing offers on the offer wall.
There are seven to eight separate offer walls, each containing hundreds of offers to complete. The site provides many choices, and some offers are less taxing and time consuming than others.
For example, some offers might ask you to pull out a credit card and subscribe to something, while others might demand you to download a game and reach a certain level.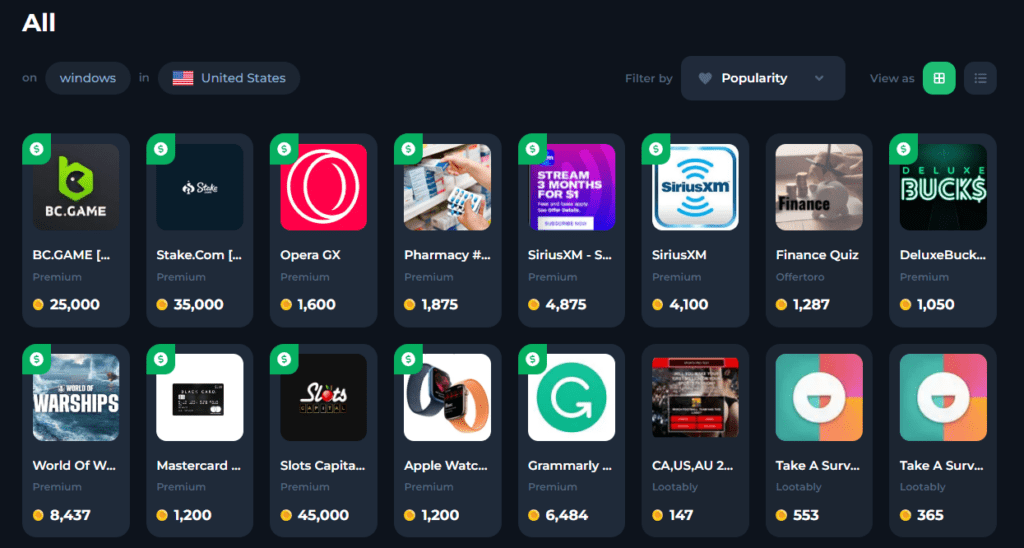 Every micro job pays differently, depending on how much time it takes. Even though some assignments are longer and more demanding than others, you shouldn't expect to earn more than a few cents to a few dollars on average.
In my opinion, the second and most tedious way to make money with Dollah.co is by participating in some of their surveys.
The surveys aren't actually theirs. Instead, they've partnered up with different, well-known, legitimate survey sites and "borrowed" some of the surveys so they can display them to you.
Although most surveys offer decent payouts, you must understand that you likely won't be able to qualify for all of them because of your demographics. The number of surveys you get really just depends on the country you're staying at, so don't be surprised if you end up getting one survey every other week.
Moreover, Dollah.co catches users who try to outsmart the system by using a VPN, and they'll lose their account and earnings.

The third, most worthwhile, and most scalable way to earn money with this site is by joining its referral program.
The referral program is simple: Dollah.co shares a unique referral link with you, and you share that link with people you know. They sign up, and you receive 5% of their earnings for life. This is an excellent and possibly the best way to generate income with this site since you don't have to do much but bring people in. Referred friends will also receive a bonus of 100 coins when they sign up.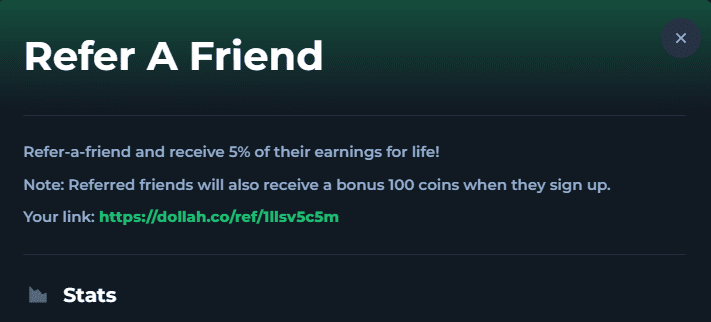 Dollah.co Payment Methods
The thing I like the most about Dollah.co is that it has a few different payout options. By getting enough points, you can later on redeem them for a Robux gift card or use your coins earned to withdraw using Bitcoin, Doge Coin, Litecoin, Bitcoin Cash and Dash.
The fact that Dollah.co pays is what truly matters. After passing the 5000 coins payout threshold, I could withdraw my money in the form of BTC.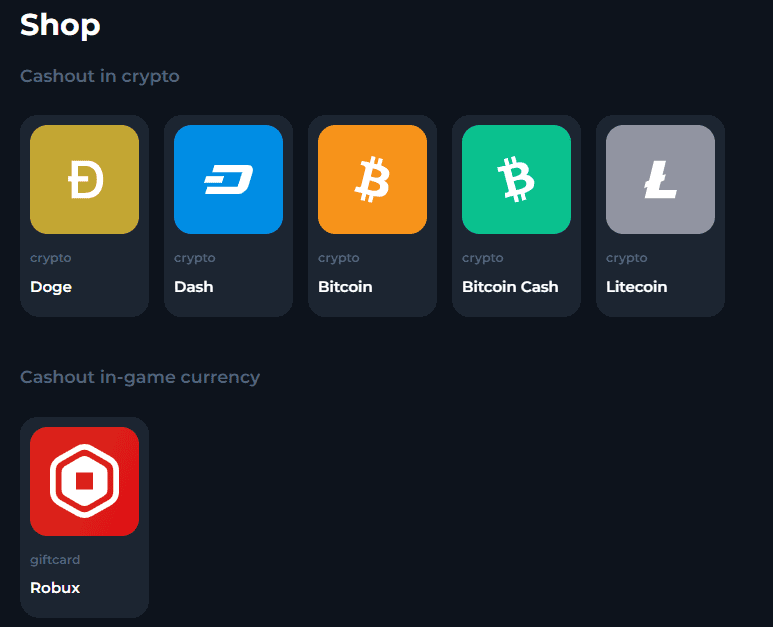 I received my payout in less than a few minutes, so I can say that this is undoubtedly one of the fastest paying GPT sites I've ever come across.
Is Dollah.co Legit?
Dollah.co is a legitimate GPT website.
However, it is important to note that the amount of money you can earn depends on your location and the number of available tasks.
If you live in a first-world country like the USA or Canada, you may have more opportunities to earn money.
It is crucial to manage your expectations when using Dollah.co.
While the website claims that you can earn up to $20 per day, this is not a guarantee. Your earnings may vary from day to day, and you may earn anywhere from $5 to $10 on some days, while on others you may earn nothing.
If you are looking for a side hustle and are okay with the possibility of earning inconsistent amounts, then Dollah.co may be worth a try.
However, it is essential to remember that your earnings are not guaranteed, and you should not rely on Dollah.co as a primary source of income.
Despite being a new website, Dollah.co shows promise and may become one of the top GPT sites in the future.
The website is constantly developing, and there may be more opportunities to earn money in the coming months.
Discover My Secrets to Thriving Online: How I Make a Living from Anywhere!
Ready to unlock the ultimate online money-making solution? Say goodbye to Top Earner Transformation and hello to a platform trusted by thousands of users, offering a hundred times more value. Don't miss out on this game changing program that revolutionizes how you earn money online. Discover how to turn your dreams into reality.
Imagine living life on your own terms, working from anywhere you desire with just a stable internet connection, all while earning a full-time income. It's not a dream anymore! Thanks to this legendary program, you'll be able to build a scalable business and achieve financial freedom. Yes, it takes time and effort and not some get rich quick scheme, but with our expert guidance, you'll be equipped with everything you need to succeed. So, are you ready to join the league of successful online entrepreneurs?
FAQ
Is Dollah.co a Legitimate Platform for Earning Cash?
Dollah.co is a GPT (Get Paid To) platform that rewards users for completing offers, surveys, and other tasks. While some users have reported success in earning cash on the site, others have raised concerns about the legitimacy of the platform. It is important to note that Dollah.co is a relatively new website, having been launched in February 2022. As with any online platform that involves earning money, it is important to exercise caution and do your own research before investing your time and effort.
What are the Reviews for Dollah.co on Trustpilot?
Reviews for Dollah.co on Trustpilot are mixed. Some users have reported success in earning cash on the site, while others have raised concerns about the legitimacy of the platform. As of 2023, Dollah.co has a Trustpilot score of 4.2 out of 5 stars. It is important to note that Trustpilot reviews are not always a reliable indicator of the legitimacy of a platform, as they can be manipulated or biased.
Can Dollah.co be Used to Earn a Significant Amount of Cash?
While some users have reported success in earning cash on Dollah.co, it is unlikely that the platform can be used to earn a significant amount of cash. Dollah.co is a GPT platform, which means that users are typically rewarded with small amounts of cash for completing offers, surveys, and other tasks. While it is possible to earn some money on the site, it is unlikely that Dollah.co can be used as a primary source of income.